Like Kentucky Bluegrass and many northern lawn grasses, Tall Fescue Grass originated in Europe and was introduced to the United States early in our nation's history, in the early 1800s. Tall Fescue Grass is valued for its versatility, and its ability to adapt to a wide range of climates and soil conditions. It can be found growing from the Pacific Northwest to the southern United States, is both heat and cold tolerant, and can survive in drought conditions due to its extensive root system, which can grow to a depth of two to three feet. Fescue sod also tolerates shade better than other cool season grasses and remains green year-round under irrigated conditions. In its preferred growing zones, tall fescue offers lawn owners exceptional options for improving the resilience and durability of their lawns.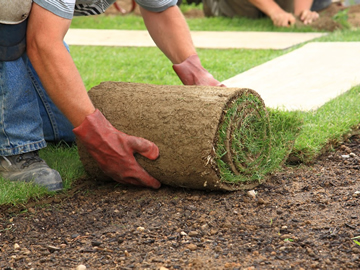 This popular grass choice from JustSod:
Saves up to 15-20% on water, requiring about 1 inch of water per week
When fully established, roots can reach up to 3 feet making Fescue extremely drought tolerant
Shade tolerant
High insect and disease resistance
Used in lawns, athletic fields, and parks
Has a thicker blade
In addition to its adaptability to a wide variety of soil types and climates, Fescue Grass is also resistant to disease. The experts at JustSod suggest that early fall is the best time to establish this sod, and it should be mowed at two inches during fall and spring, raising to three inches in heavily shaded areas and during the hot summer months. The improved turf-type varieties can be mowed at a height of 1.5 inches during spring and fall, and 2 inches during summer months. Proper watering is very important to the survival of Tall Fescue Grass, which requires frequent watering during the summer months.
During peak spring and fall growth periods this grass requires mowing approximately every five days. Many tall fescue lawns become thin after hot, dry summer conditions, and unsightly clumps can begin to form. To prevent this, it is usually necessary to overseed fescue lawns in the fall to ensure your drought resistant grass quality.
If you have been considering a professional installation of Tall Fescue sod, feel free to reach out to us today for a free estimate. Simply fill out our convenient service request form , contact Jason via email at jason@justsod.net, or give us a call in the Denver area at (303) 253-2352. We look forward to hearing from you soon.