Landscaping is a big part of the first impression given by any home or business and puts the finishing touch on your remodeling or new construction project. Done correctly, the right landscaping can bring a fresh, vibrant element of natural beauty to your home or place of business. We at JustSod help make the Denver metro area green and beautiful, and, out of the many landscaping companies in Denver, you will not find a more dedicated team or better price for the quality of work we deliver.
JustSod, your choice among landscaping companies in Denver, offers landscape installations of sod for any remodel or new build construction project, both residential and commercial, and will do an honest assessment of what your property needs to be the best. We not only enhance the appearance of your neighborhood home, but we also bring landscaping to companies in Denver and the surrounding areas. We give free estimates for your project of any size, and never begin work without your approval. We will prepare the area to be landscaped and provide and install fresh local sod or high quality American turf.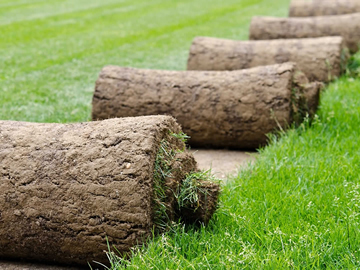 Denver landscaping includes:
Edging Installation
Weed Barier Fabric Installation
Irrigation Installation
Soil Amendment
Sod Installation
There are so many advantages to having a healthy lawn; grass is not just for aesthetic appeal! Did you know that in the warmer weather it helps to cool the air? When the sidewalk is up to 100 degrees, the temperature on the grass is around 75 degrees, and those cooler temperatures help reduce the cooling needs of your home, helping you save money on your energy bill. Grass also helps increase the stability of the soil, as areas that are devoid of grass experience over 600 times the water erosion. Having a healthy, green lawn can help improve the environment around you.
Our Denver landscaping team strives to address all pertinent issues with your landscaping, and will keep you informed throughout the project as to our progress, answering any question you may have. We have a passion for making our customers happy, and work hard for your business by offering competitive pricing in contrast to other landscaping companies in Denver and stellar customer service. Our team members are respectful of your property and privacy, and we believe the job is not done until we have cleaned up all evidence we were ever there (except for your gorgeous new landscape, of course!).
Your complete satisfaction is always our primary goal, making us stand out among the many landscaping companies in Denver. We pride ourselves on our good reputation gained from many happy customers and appreciate the opportunity to earn your five-star review. Give us a call today at (303) 253-2352 and set up an appointment for a free estimate. We offer both sod installation and synthetic turf installation, depending on your particular needs and what you would like to accomplish with your Denver landscaping project. Let us help you beautify the world around you with a professionally installed landscape!