Economical Friendly Kentucky Blue Grass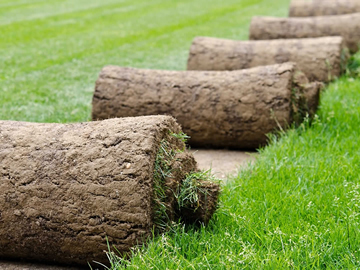 Did you know that, out of all types of grass, Kentucky Bluegrass Sod is the most common in the Denver area?
This eco-friendly sod is used both in Colorado and all over the United States, and is one of the most economical varieties of sod available today. Some of the features of JustSod's Kentucky Bluegrass include:
Requires 1.25 inches of water a week
4 pounds of nitrogen per 1000 Suare feet of grass per year
Can be mowed as low as 1.5 inches
Dog and kid friendly
Durable against normal wear and foot traffic
Drought tolerant
This cool season lawn grass has excellent winter hardiness, and for many lawn owners in the United States, is synonymous with the perfect lawn. JustSod knows that since this is one of the types of grass that requires so little water to stay healthy and green, it is a top choice among home owners as well as business owners in Colorado who want the exterior of their establishment to be welcoming and attractive. This cool season lawn grass has excellent winter hardiness, and although it will go dormant when exposed to extreme heat or extended drought, it recovers quickly with irrigation when normal conditions return. Under preferred growing conditions and with proper care, this grass produces a dense, lush, durable lawn, making it a perfect choice for an appealing landscape.
Although it bears the same name, Kentucky Bluegrass did not originate in the state of Kentucky, but is native to Europe and northern Asia. It got its nickname as a pasture grass, just natural bluegrass in Kentucky, and grew to become a premier lawn grass throughout much of the country. This perennial lawn grass comes back year after year and grows heartily during the cooler seasons of spring and fall. Traditional varieties have relatively shallow root systems, which leads to lower tolerance for heat. Sod installation is a great answer for "dressing up" the outside of a residential home, rental or investment property, store front, or other commercial property. JustSod can help you find the beautiful landscape that goes a long way toward making a good first impression and improving curb appeal tremendously.
With a medium to fine texture and rich color, this lush emerald green grass is both beautiful to behold and comfortable to walk on with bare feet, making it popular with families, day care centers, parks, recreation centers, and school playgrounds where grass is used. If you are looking for types of grass that can stand up to the abundant sunshine of Colorado, Kentucky Bluegrass is a great choice, as this grass does well in full sun and lightly shaded areas. Give us a call today at (303) 253-2352 and set up an appointment for a free estimate.