If you are searching for a professional to provide you with Denver sod services, you have come to the right place. We offer many sod options:
We will supply the sod of your choosing, Demo your old grass, instll amendments, install Sod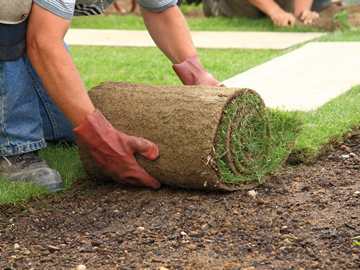 Full Service Sod Installation
We remove 1.5 inches of your existing grass and dispose of the debris.
Rototill 2 to 6 inches to remove excess debris and allowing soil to accept amendments.
Install 3 to 4 yards per thousand sq ft of grass of amendments (compost and augmented topsoil).
Turn and mix amendments into your soil.
Rake and roll the dirt to begin the leveling process, fill in any low spots.
Grade any areas by sidewalks 1.5 inches down so sod will be level with the sidewalks and driveways.
Check sprinklers system for proper coverage and sprinkler heads for height.
Install sod.
Clean up, sweep sidewalks, water grasss, set timer to new watering cycle, and water thouroughly.
We will supply the artificial turf of your choosing,amend area, and install your new synthetic turf.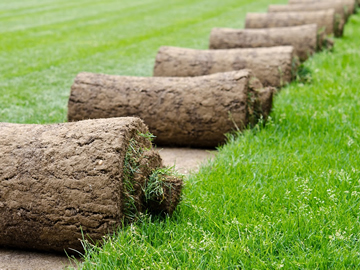 Full service Synthetic Turf Installation
Service details go here.
We remove 1.5 inches of your existing grass and dispose of the debris.
Cap and rerout any sprinklers in the turf area.
Install weed barier fabric.
Install 3 inches of road base material and compact.
Install an additional .5 inches of breeze and compact.
Install the Artificial Turf of your choosing.
Add 1 lb of silica sand per square foot of Synthetic Turf to the top.
Attach any seams and pin down Artificial Turf with Sod Pins
Brush the Synthetic Turf
We supply the Sod, tear out existing grass, soil augmentation, and instal sod.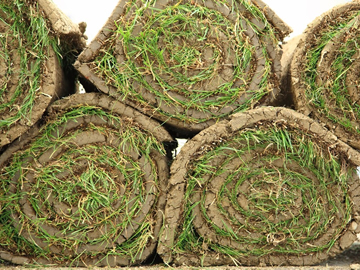 We offer 4 different blends of sod suited for the Colorado climate.
This service is for delivery only.
Kentucky Bluegrass
Hy-Performance Blue
Bermuda
Fescue
We offer generic landscape installations for remodles, or new build construction.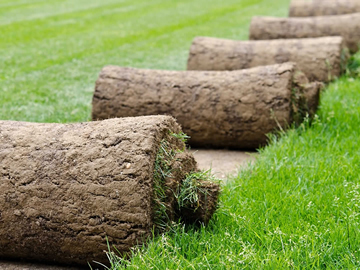 We design the project to your liking and impliment the design.
Landscaping consists of.
Edging Installation
Weed Barier Fabric Installation
Edging Installation
Irrigation Installation
Soil Amendment
Sod Installation
At JustSod, we concentrate on providing the best possible sod grass installation services to people in the Denver area. Our singular focus makes us very good at what we do, and our customer testimonials attest to this fact. Here is what just a few of our happy customers had to say about our Denver sod services:
"Dealing with Jason and his crew was a completely positive customer service based experience. The crew was respectful of our property and surrounding areas. I wish more contractors could provide as much ease, trust, confidence and customer service as Jason provided."
"I've worked with a lot of contractors and hands down, this was the best experience I've had on any of our many projects. They worked hard and are super nice. It was a pleasure dealing with the entire team. So far, the sod is gorgeous and the irrigation system is working like a charm. Jason's team went above and beyond to get everything up and running smoothly."
"It was truly refreshing to see a company that cared enough to do the job not just well but perfect. If there is such thing as a "sod craftsman" they are it. You would be hard pressed to find a company that cares more, does more or delivers more. I would recommend them in a heartbeat."
"Just Sod did a fantastic job transforming our front yard. Jason gave an honest assessment of our needs and worked with us on what we were going for. He was punctual, explained well what his plan was, followed through on timing, worked hard, and above all, was trustworthy. I would highly recommend Just Sod - the quality of their work is amazing."
We care very deeply about our customers, and are proud of the reputation we have earned by working hard and delivering on our promises. We understand that the appearance of your home or place of business is important to you, and therefore it is important to us.
If you have been considering a professional installation of sod grass, feel free to reach out to us today for a free estimate. Simply fill out our convenient online service request form, contact Jason via email at jason@justsod.net, or give us a call about Denver sod services at 303-253-2352. We look forward to hearing from you soon.