Nothing makes a house feel more like a home when you pull up in the driveway than a lush green lawn to greet you and welcome you home. Sometimes, nature needs a little help producing that beautiful green grass, and that's where we come in.
Denver area homeowners and business owners alike call upon us when they need healthy green grass and the part of the soil beneath it held together by roots or a piece of thin material, known as sod. We are JustSod, and we specialize in providing professional sod installation in Denver at your home or place of business.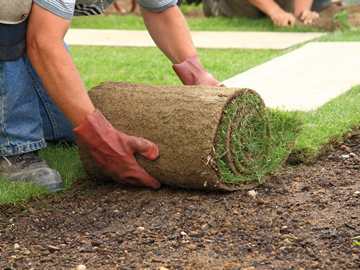 Full Service Sod Installation
Removal of 1.5 inches of your existing grass and disposal of any debris.
Rototilling of 2 to 6 inches to remove excess debris and allow soil to accept amendments.
Installation of 3 to 4 yards per thousand square feet of grass and amendments (compost and augmented topsoil).
Turning and mixing of amendments into your soil.
Raking and rolling the dirt to begin the leveling process, filling in any low spots.
Grading of any areas by sidewalks 1.5 inches deep, so your sod will be level with the adjacent sidewalks and driveways
Checking of sprinklers system for proper coverage and sprinkler heads for height.
Installation of your sod.
Clean up, sweeping of sidewalks, thoroughly watering the grass, setting timer to new watering cycle.
Sometimes home owners need professional sod installation in Denver to complete the look of new construction. Other situations where professional sod installation comes into play include when you need repair to a specific area of an existing lawn, or desire to completely start over, perhaps with a new type of grass. No matter what you need in the way of sod, JustSod has the ability and skill to handle all of your professional Denver sod installation needs.
Sod installation cost starts at $1,500, but you can get an estimate of the cost of sod for your property totally free simply by contacting us via telephone in the Denver area at 303-253-2352, or filling out our convenient online service request form.
Prices for professional sod installation in Denver will naturally vary according to the size and complexity of the project, but you won't receive a hard sell from us. We offer competitive pricing and pride ourselves on our friendly customer service. We hold general liability insurance while on your property, and will work hard to earn your 5-star review. Contact us today and let's work together to make your home or place of business beautiful.