We will supply the sod of your choosing, Demo your old grass, instll amendments, install Sod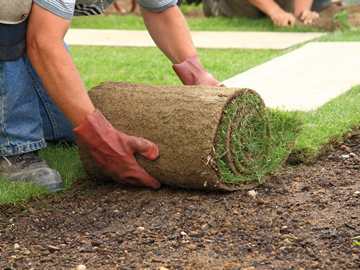 Full Service Sod Installation
We remove 1.5 inches of your existing grass and dispose of the debris.
Rototill 2 to 6 inches to remove excess debris and allowing soil to accept amendments.
Install 3 to 4 yards per thousand sq ft of grass of amendments (compost and augmented topsoil).
Turn and mix amendments into your soil.
Rake and roll the dirt to begin the leveling process, fill in any low spots.
Grade any areas by sidewalks 1.5 inches down so sod will be level with the sidewalks and driveways.
Check sprinklers system for proper coverage and sprinkler heads for height.
Install sod.
Clean up, sweep sidewalks, water grasss, set timer to new watering cycle, and water thouroughly.