When they need professional sod or artificial turf installation, Denver residents and business professionals know they can turn to JustSod for professional sod and artificial turf installation that ensures your property will look great from day one.
There's nothing quite like a lush green carpet of grass or artificial turf to turn an area of barren dirt into a thing of beauty, and at JustSod, that's where we come in. Since we have the singular goal of making your property look great, we are very good at what we do. We focus on your individual property needs and work with you to determine the best solution for your situation.
We will supply the artificial turf of your choosing and professionally install your new synthetic turf according to your specifications. Our full service synthetic turf installation in Denver and surrounding areas includes: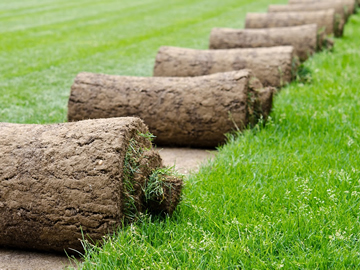 Full service Synthetic Turf Installation
Service details go here.
Removal of 1.5 inches of your existing grass and disposal of any debris.
Capping and rerouting of any sprinklers in the turf area.
Installation of weed barrier fabric.
Installation and compaction of 3 inches of road base material.
Installation of an additional .5 inches of breeze and compact.
Installation of the artificial turf of your choosing.
Addition of one pound of silica sand per square foot of synthetic turf.
Attaching of any seams and securing of artificial turf with sod pins.
Brushing of synthetic turf to achieve a uniform look.
For artificial grass, Denver area residents and business owners can contact JustSod by phone at 303-253-2352, via email at jason@justsod.net, or receive a free estimate by filling out our convenient online service request form. You will be contacted by one of our friendly staff members to discuss your specific Denver turf installation needs.
At JustSod, we are proud of our A+ rating with the Better Business Bureau, and all of our positive customer reviews. We strive for 100% customer satisfaction with every installation, no matter how simple or complex. We follow up with our customers to ensure the success of their Denver turf installation, and to answer any questions or concerns that might arise. We don't consider our projects to be a onetime thing, we want to build lifelong relationships whenever possible.
Give us a call, send us an email, or take advantage of our easy online form to request a free estimate for artificial grass installation in Denver at your home or place of business. We look forward to adding your name to our long list of satisfied customers.